[7] Karim Darwish (Egy) bt [2] Gregory Gaultier (Fra)
11/9, 11/5, 3/11, 11/8 (52m)
Darwish takes it all ...

Karim Darwish and Gregory Gaultier have been meeting since their junior days, in British Junior Open and World Junior Championship finals, and on the professional tour since, but there was a lot riding on this match, the biggest-ever payday in squash.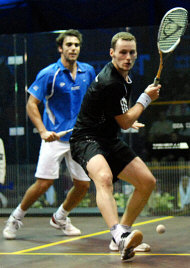 It was the Frenchman who started the better, losing the first two points but taking the next five to establish a handy lead. The play was solid to this point, both players feeling their way into the match, both happy to engage in patient rallies.

But Gaultier paid for some uncharacteristic unforced errors, four of them coming after he led 6/5, although he still looked calm and settled.

Darwish took full advantage, reaching 10/7 with a short kill, and finished the game off with a precise volley drop after 14 minutes.

The second started in a similar vein, level to 4-all,but from the midpoint the Egyptian became more confident, stated taking the ball short and forged ahead with a series of winners, doubling his lead in 11 minutes.

If Gaultier looked a little flat at the end of the second, he was dynamic at the start of the third, racing to a quick lead which Darwish wasn't inclined to chase down as Gaultier halved the deficit in just 5 minutes.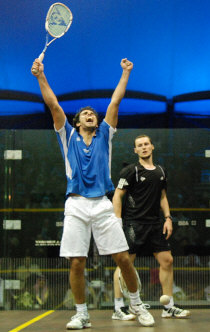 It was never going to continue like that, and sure enough it didn't. The fourth was the longest game of the match at 16 minutes, and it was level pegging all the way to 7-all. The crowd were going wild on every Darwish point.

At 8-all they played six lets, then Darwish broke the deadlock with a long dropshot. Cue roars. Gaultier hits a loose ball, Darwish hammers it away to the back to reach matchball ... the roof starts to tremble. A few shots, Darwish hits the ball deep, Gaultier mishits it into the floor ... bedlam ...

A wonderful finish for Darwish, and a fitting one considering he'll be number one in January.

If you remember that he was seeded seven, based on the October rankings, it underlines what a spectacular three months he's had, and he's definitely going to have a happy new year ..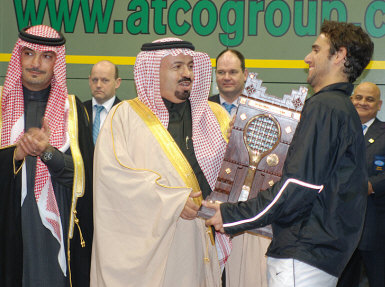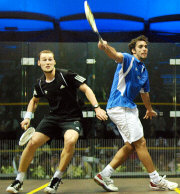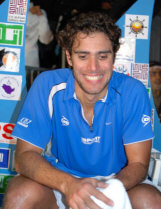 "This is the greatest moment of my career, I've been working really hard all my life to reach this moment, thank god I should do it in this, the richest tournament ever and in front of a crowd like this.

"The crowd were unbelievable in their support, I was almost in tears even before we went on the way they were chanting my name and making so much noise.

"I was a bit up and down in the first but I managed to come back and win it at the end. I had to refocus and come out stronger for the second, I couldn't afford to give him anything loose, especially on a cool court, I had to play deep to the back.

"I lost concentration in the third, I wasn't playing deep enough, but the fourth was so close, point for point and so tense at the end.

"It's a fantastic moment for me, such a great feeling. Thanks to my family who have been supporting me all my life, my mum and dad, my brother and now my wife, and to my coach Amir Wagih ..."



"Congratulations to Karim, on reaching number one and for the match today, it was a tough game but he's a worthy winner.

"Thanks to everyone who supported me this week, I know you weren't supporting me today but I still enjoyed playing in front of such a big and noisy crowd!