TODAY at the Saudi International:
Wednesday 20th 2006, Day Five, THE FINAL
[1] Amr Shabana (Egy) bt [7] Gregory Gaultier (Fra)
11/7, 11/9, 11/4 (44m)

Shabana takes Saudi Spoils
Framboise reports, quick summary from Steve Cubbins

It was a packed crowd who turned up at Sunset Beach to watch the last major final of 2006, most of them hoping for an Egyptian win.

Frenchman Gregory Gaultier, who had beaten Shabana in four of their last five meetings, started well, taking a 3/0 lead in the first to momentarily quieten the crowd. But Shabana struck back, taking the next six points as he took the lead, the 18-minute game the first game Gaultier had lost all week.

The second proved to be crucial. With both players mixing sweet winners with thier share of tins, the moved together up the scoreboard, 6/6, 7/7, 8/8, 9/9, then Shabana hit the nick off the Frenchman's serve and gratefully accepted Gaultier's next error to win game in 15 minutes.

The third was one-way traffic, and just seven minutes later Shabana was the new Saudi champion and the crowd was on its feet ...




ROUNDUP
SHABANA WAS HOT, GREG WAS FLAT…

Framboise reports ...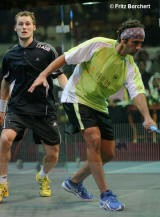 A bit of a damp squib, that final was. Then again, the couple of thousand spectators who were chanting Shabana's name from an hour before the final started won't mind I'm sure that their idol won a three setter in 44 minutes…

They won't mind that Greg looked subdued and not as pumped as he would normally be in a final of a Major… They won't mind that Greg made six unforced errors in the first game only, and 12 in all, when Shabana only made four… They won't mind that only two people were supporting the Frenchman tonight, quite loudly bless their souls… They won't mind anything, because their man won…

And the Prince of Egypt did it with style, it was some "Champagne Squash" tonight. He was patient when he needed to be, and astonishing as soon as he could be.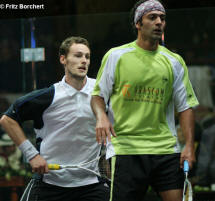 It was a stunning performance from a stunning champion on a stunning court in front of a stunning crowd. Slightly biased, you may say … Greg didn't really mind … "You gave me a hard time tonight," he smiled in his speech at the end to a crowd that warmly clapped him at last…

But hey, we are in the heart of the Arab world, Shabana is the best player that this part of the world has ever produced, and it's only natural that they get the reward of all that squash investment they've made for years and years…

Shabana is one of the gentlemen of this game. I hope he finally gets all the recognition and fame in his country and around the world he so deserve. Well done Amr, well done....

"I think Greg had a harder route to the final than I had. I was fresher and also more determined than he was, I didn't have the pressure.

"What made the difference is that I was more patient today. Greg likes playing me because I attack all the time. So today, I told myself that I was going to change my style of play, and not attack, and be more patient. I tried to make it as physical as I could. It's hard to play like that, changing your natural game, but Greg is so good I didn't have any other choice…

"Greg played really well during this tournament, and for him to beat Thierry and David 3/0 proves that he is so dangerous at the moment. I think he is going to be number two soon, and that if I don't win the next tournament, he will!

"He's hammered me so many times I need a win today… on me, he had, and I was up to get him…



"Today, I was just a bit less fast than I am normally, and he was just better than me. The energy I spent coming in the second game cost me the match, whereas it gave him more confidence…

"If only I'd played him earlier in the tournament, it's hard to arrive fresh in the final, but even had I been fresher, he would still been difficult to beat today. And hey, that's the name of the game, no excuses…

"I didn't play that badly, but I was not fast enough, I was just a fraction late on every ball, and I couldn't accelerate…

"I wanted to thank Ziad for everything, it's been an excellent week. What he does for our sport is wonderful, we need people like him, and I hope he will support our sport for many years.

"I'm disappointed, of course, but not that much, come on, what a positive result and a great end of the year, so, see you next year…

"And today it was his turn…"


The commentators view ...

In my opinion, Shabana's gameplan was to slow Greg down, tighten the ball and contain him, which he did perfectly in the first which led Greg to make a few impatient errors.

In the second, Greg tried to forced the pace, which he needed to do. Shabana went along with it for the first part of the game, then went back to containing him again. Again the Frenchman made two or three unforced errors.

By the time the third came, Greg looked like a beaten man, and Shabana went into attack mode and picked off winners at will…


[1] Amr Shabana (Egy) bt [4] James Willstrop (Eng)
7/11, 11/2, 11/7, 11/9 (49m)

[7] Gregory Gaultier (Fra) bt [2] David Palmer (Aus)
11/8, 11/2, 11/9 (43m)

It's Amr and Greg ...
Framboise reports from Sunset Beach
Quick Summary from Steve Cubbins

World number one Amr Shabana recovered from a game down beat England's James Willstrop in four games to move to within one match of the Saudi International title.

After Willstrop took the first the Egyptian struck back with a blistering start to the second, and to the delight of the packed crowd at Sunset Beach got the better of two well-fought games to reach the last major final of 2006.

There he will face Frenchman Gregory Gaultier, who turned in a sparkling performance to avenge his world open final defeat against David Palmer ...



Photo Galleries